En 1845, Charles REYNOLD de CHAUVANCY, lieutenant de port à l'île de La Réunion, fut chargé par le gouverneur de changer les signaux de vigie de Saint Denis à Saint Paul.

Ces signaux se faisaient à l'aide de boules de couleur, il en résultait des erreurs fréquentes car les couleurs observées de loin se confondent. REYNOLD de CHAUVANCY remplaça ce système par un autre composé de 1 ballon, 1 pavillon et 1 guidon de couleur uniforme.
In 1845, Charles REYNOLD de CHAUVANCY, port captain at the Island of La Réunion was charged by the Governor to change the look-out signals from St Denis to St Paul.

These signals were made by using coloured signal balls and using them resulted in frequent errors as these colours were often wrongly observed from a distance. REYNOLD de CHAUVANCY replaced this system by another which consisted of three signals: one ball, one flag and one pennant, all of the same colour.
Le succès de ce nouveau système engagea son auteur à le perfectionner pour le rendre applicable à toute la marine.
Il rédigea un code de Télégraphie Nautique Polyglotte en 1855 qui fut rendu obligatoire aux marines militaires et de commerce française cette même année.
La diplomatie française entra en jeu et fit adopter ce code par 15 nations étrangères: Angleterre, Pays-Bas, Sardaigne, Suède, Grèce, Naples, Belgique, Prusse, Norwège, Russie, Uruguay, Hambourg, Oldenbourg, Chili, Danemark et Autriche.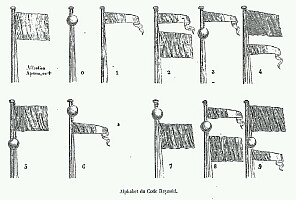 The success of this new system inspired the author to perfect it for application throughout the fleet.

He developed a Multi-lingual Nautical Telegraph Code in 1855 which was made obligatory throughout the French naval and merchant fleets that same year.

French diplomacy then played a role in having this code adopted by 15 foreign nations: Great Britain, the Netherlands, Sardinia, Sweden, Greece, Naples, Belgium, Prussia, Norway, Uruguay, Hamburg, Oldenburg, Chili, Denmark and Austria.
Les trois signaux permettaient de transmettre 18000 mots. Dans son manuel "télégraphie nautique polyglotte", l'auteur cite en abondance des exemples avec non seulement ses moyens de transmission (pavillon, boule, fanion) mais aussi avec des pavillons en usage dans divers pays. Les pavillons qu'il indique pour la France sont identiques à ceux du code MARRYATT.
The three signal elements allowed the transmission of 18 000 words. In his "télégraphie nautique polyglotte" manual, the author abundantly illustrated examples of not only the means of transmission (flag, balls, pennants) but also with flags and usages in different countries. The flags which he indicated for France were identical to those of MARRAYATT Code.
Le Code REYNOLD était excellent mais il avait le défaut d'être français ce que l'orgueil britannique ne pardonne guère dans les questions de marine. L'Angleterre refusa de l'appliquer et travailla sur un autre projet de Code Commercial des Signaux. En 1863, le ministre de la Marine abrogea le décret de 1855 et envoya une commission travailler avec le Board of Trade pour la validation du nouveau code. Celui-ci , d'abord connu sous le nom de Code LARKINS, fut adopté internationalement et devint le Code International des Signaux.
The REYNOLD's Code was excellent but had the disadvantage of being French which British pride could not endure in matters maritime. Britain refused to apply this code and worked on another project for a Commercial Signal Code. In 1863, the Minister of the Marine cancelled the decree of 1855 and dispatched a commission to work with the Board of Trade for the validation of the new code. This one became known as the LARKINS Code, which was adopted internationally and eventually became the International Code of Signals.