Le livre "Flags and Signals of All Nations" des frères Hounsell nous renseigne sur les signaux utilisés par la marine de guerre française pour leur communication dans le Code Commercial.
Il diffère du système universel pour les lettres C, F, G, L, M, N, P, R et V.
Il est probablement la version qui succéda au Code Reynold en 1863 avant d'être supplanté par le Code International des Signaux créé en 1871.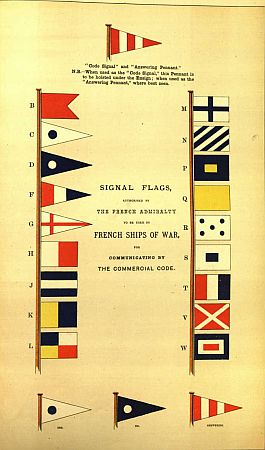 The book " Flags and Signals of All Nations " by Hounselln brothers informs us about the signals used by the French navy for their communication in the Commercial Code
It differs from the universal system for letters C, F, G, L, M, N, P, R and V.
It is probably the version which succeeded to Code Reynold in 1863 before being supplanted by the International Code of the Signals created in 1871.